Phoebe's Morning book chat takes place on the second Thursday of every month at 11:00am in the Community Room.
Multiple copies of the selected book are available please call the library (860-434-1684) to reserve a copy.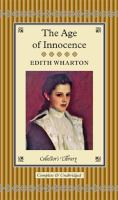 Thursday, July 14
The Age of Innocence by Edith Wharton
Image credit: Syndetics
"Newland Archer is a proper New York gentleman, and part of a society which adheres to strict social codes. Newland marries May Welland, a young woman whose upbringing has made her the perfect wife. When Newland meets May's cousin, Countess Ellen Olenska, who has left her husband in Europe and now wants a divorce, he finds himself utterly captivated by her. Both Ellen and Newland, however, are products of their upbringing and their culture, and they dutifully resist their feelings because of their separate social obligations."
(Syndetics)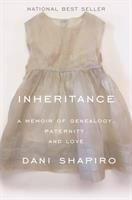 Thursday, August 11
Inheritance by Dani Shapiro
Image credit: Syndetics
"From the acclaimed, best-selling memoirist, novelist and host of the hit podcast Family Secrets, comes a memoir about the staggering family secret uncovered by a genealogy test: an exploration of the urgent ethical questions surrounding fertility treatments and DNA testing, and a profound inquiry of paternity, identity, and love.
In the spring of 2016, through a genealogy website to which she had casually submitted her DNA for analysis, Dani Shapiro received the stunning news that her beloved deceased father was not her biological father. Over the course of a single day, her entire history—the life she had lived—crumbled beneath her.
Inheritance is a book about secrets. It is the story of a woman's urgent quest to unlock the story of her own identity, a story that had been scrupulously hidden from her for more than fifty years. It is a book about the extraordinary moment we live in, a moment in which science and technology have outpaced not only medical ethics but also the capacities of the human heart to contend with the consequences of what we discover."
(Amazon)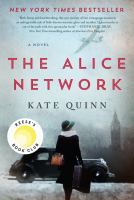 Thursday, September 8
The Alice Network by Kate Quinn
Image credit: Syndetics
"It's 1947 and American college girl Charlie St. Clair is pregnant, unmarried, and on the verge of being thrown out of her very proper family. She's also nursing a fervent belief that her beloved French cousin Rose, who disappeared in Nazi-occupied France during the war, might still be alive somewhere. So when Charlie's family banishes her to Europe to have her "little problem" take care of, Charlie breaks free and heads to London determined to find out what happened to the cousin she loves like a sister. In 1915, Eve Gardiner burns to join the fight against the Germans and unexpectedly gets her chance to serve when she's recruited to work as a spy for the English. Sent into enemy-occupied France during The Great War, she's trained by the mesmerizing Lili, the "Queen of Spies", who manages a vast network of secret agents, right under the enemy's nose. Thirty years later, haunted by the betrayal that ultimately tore apart the Alice Network, Eve spends her days drunk and secluded in her crumbling London house. Until a young American barges in uttering a name Eve hasn't heard in decades, and launching them both on a mission to find the truth …no matter where it leads."
(Syndetics)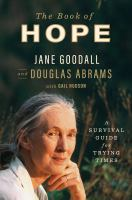 Thursday, October 13
The Book of Hope by Jane Goodall
Image credit: Syndetics
"Jane Goodall and Douglas Abrams explore through intimate and thought-provoking dialogue one of the most sought after and least understood elements of human nature: hope. Drawing on decades of work that has helped expand our understanding of what it means to be human and what we all need to do to help build a better world, the book touches on vital questions, including: How do we stay hopeful when everything seems hopeless? How do we cultivate hope in our children? What is the relationship between hope and action? While discussing the experiences that shaped her discoveries and beliefs, Jane tells the story of how she became a messenger of hope, from living through World War II to her years in Gombe to realizing she had to leave the forest to travel the world in her role as an advocate for environmental justice. And for the first time, she shares her profound revelations about her next, and perhaps final, adventure."
(Syndetics)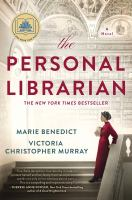 Thursday, November 10
The Personal Librarian by Marie Benedict
Image credit: Syndetics
"The remarkable, little-known story of Belle da Costa Greene, J. P. Morgan's personal librarian-who became one of the most powerful women in New York despite the dangerous secret she kept in order to make her dreams come true, from New York Times bestselling author Marie Benedict and acclaimed author Victoria Christopher Murray. In her twenties, Belle da Costa Greene is hired by J. Pierpont Morgan to curate a collection of rare manuscripts, books, and artwork for his newly built Morgan Library. Belle becomes a fixture on the New York society scene and one of the most powerful people in the art and book world, known for her impeccable taste and shrewd negotiating for critical works as she helps build a world-class collection. But Belle has a secret, one she must protect at all costs. She was born not Belle da Costa Greene but Belle Marion Greener. She is the daughter of Richard Greener, the first Black graduate of Harvard and well-known advocate for equality. Belle's complexion isn't dark because of her alleged Portuguese heritage that lets her pass as white-her complexion is dark because she is African American. The Personal Librarian tells the story of an extraordinary woman, famous for her intellect, style, and wit, and shares the lengths she must go-for the protection of her family and her legacy-to preserve her carefully crafted white identity in the racist world in which she lives."
(Syndetics)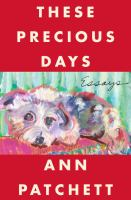 Thursday, December 8
These Precious Days by Ann Patchett
Image credit: Syndetics
"Any story that starts will also end." As a writer, Ann Patchett knows what the outcome of her fiction will be. Life, however, often takes turns we do not see coming. Patchett ponders this truth in these wise essays that afford a fresh and intimate look into her mind and heart. At the center of These Precious Days is the title essay, a surprising and moving meditation on an unexpected friendship that explores "what it means to be seen, to find someone with whom you can be your best and most complete self." When Patchett chose an early galley of actor and producer Tom Hanks' short story collection to read one night before bed, she had no idea that this single choice would be life changing. It would introduce her to a remarkable woman–Tom's brilliant assistant Sooki–with whom she would form a profound bond that held monumental consequences for them both. A literary alchemist, Patchett plumbs the depths of her experiences to create gold: engaging and moving pieces that are both self-portrait and landscape, each vibrant with emotion and rich in insight. Turning her writer's eye on her own experiences, she transforms the private into the universal, providing us all a way to look at our own worlds anew, and reminds how fleeting and enigmatic life can be."
(Syndetics)