Phoebe's Morning book chat takes place on the second Thursday of every month at 11:00am.
Multiple copies of the selected book are available please call the library (860-434-1684) to reserve a copy. This is a virtual program please email Linda Alexander lalexander@oldlymelibrary.org for a link to the discussion.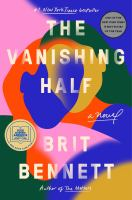 Thursday, August 12
The Vanishing Half by Brit Bennet
Image credit: Syndetics
"The Vignes twin sisters will always be identical. But after growing up together in a small, southern black community and running away at age sixteen, it's not just the shape of their daily lives that is different as adults, it's everything: their families, their communities, their racial identities. Ten years later, one sister lives with her black daughter in the same southern town she once tried to escape. The other secretly passes for white, and her white husband knows nothing of her past. Still, even separated by so many miles and just as many lies, the fates of the twins remain intertwined. What will happen to the next generation, when their own daughters' storylines intersect?"
(Syndetics)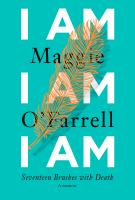 Thursday, September 9
I am, I am, I am: seventeen brushes with death by Maggie O'Farrell
Image credit: Syndetics
"We are never closer to life than when we brush up against the possibility of death.
I Am, I Am, I Am is Maggie O'Farrell's astonishing memoir of the near-death experiences that have punctuated and defined her life. The childhood illness that left her bedridden for a year, which she was not expected to survive. A teenage yearning to escape that nearly ended in disaster. An encounter with a disturbed man on a remote path. And, most terrifying of all, an ongoing, daily struggle to protect her daughter – for whom this book was written – from a condition that leaves her unimaginably vulnerable to life's myriad dangers.
Seventeen discrete encounters with Maggie at different ages, in different locations, reveal a whole life in a series of tense, visceral snapshots. In taut prose that vibrates with electricity and restrained emotion, O'Farrell captures the perils running just beneath the surface and illuminates the preciousness, beauty, and mysteries of life itself."
(Syndetics)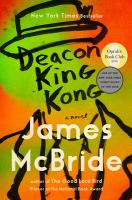 Thursday, October 14
Deacon King Kong by James McBride
Image credit: Syndetics
"In September 1969, a fumbling, cranky old church deacon known as Sportcoat shuffles into the courtyard of the Cause Houses housing project in south Brooklyn, pulls a .45 from his pocket, and in front of everybody shoots the project's drug dealer at point-blank range. The reasons for this desperate burst of violence and the consequences that spring from it lie at the heart of Deacon King Kong, James McBride's funny, moving novel and his first since his National Book Award-winning The Good Lord Bird. In Deacon King Kong, McBride brings to vivid life the people affected by the shooting: the victim, the African-American and Latinx residents who witnessed it, the white neighbors, the local cops assigned to investigate, the members of the Five Ends Baptist Church where Sportcoat was deacon, the neighborhood's Italian mobsters, and Sportcoat himself. As the story deepens, it becomes clear that the lives of the characters–caught in the tumultuous swirl of 1960s New York–overlap in unexpected ways. When the truth does emerge, McBride shows us that not all secrets are meant to be hidden, that the best way to grow is to face change without fear, and that the seeds of love lie in hope and compassion."
(Syndetics)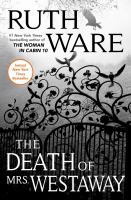 Thursday, November 11
The Death of Mrs. Westaway by Ruth Ware
Image credit: Syndetics
"On a day that begins like any other, Hal receives a mysterious letter bequeathing her a substantial inheritance. She realizes very quickly that the letter was sent to the wrong person–but also that the cold-reading skills she's honed as a tarot card reader might help her claim the money. Soon, Hal finds herself at the funeral of the deceased…where it dawns on her that there is something very, very wrong about this strange situation and the inheritance at the center of it."
(Syndetics)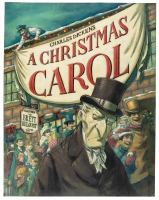 Thursday, December 9
A Christmas Carol by Charles Dickens
Image credit: Syndetics
""Merry Christmas, everyone!
"Bah!" said Scrooge. "Humbug!""
With those famous words unfolds a tale that renews the joy and caring that are Christmas. Whether we read it aloud with our family and friends or open the pages on a chill winter evening to savor the story in solitude, Charles Dickens' A Christmas Carol is a very special holiday experience.
It is the one book that every year will warm our hearts with favorite memories of Ebenezer Scrooge, Tiny Tim, Bob Cratchit, and the Ghosts of Christmas Past, Present, and Future—and will remind us with laughter and tears that the true Christmas spirit comes from giving with love."
(Amazon.com)